Saints in Wales
The Links Page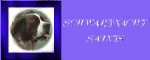 Schwarznacht Saints - Excellent site. Loads of info and links.
Rathleague Saint Bernards - Irish Saint Kennel.
---
Contains an index of the sites contained in the Saint Bernard Web Ring
Excellent British site.
The Complete List of Saint Bernard Websites
Very comprehensive list covering Saint sites worldwide
Saint Bernard Club Of Scotland
Everything for dogs and owners, including a live chat area.